Surgeon employs anti-choking technique that bears his name to dislodge hamburger from woman's airway in retirement home
The surgeon who gave his name to the simple but dramatic procedure used to rescue people from choking saved someone's life with the Heimlich Manoeuvre for the first time this week aged 96.
Dr Henry Heimlich's technique for dislodging food or objects caught in people's throats has been credited with saving untold thousands of lives around the world since he invented it in 1974 – but he had never once had cause to use it in an emergency situation himself.
Last Monday, however, the retired chest surgeon encountered a female resident at his retirement home in Cincinnati who was choking at the dinner table.
Without hesitation, Heimlich spun her around in her chair so he could get behind her and administered several upward thrusts with a fist below the chest until the piece of meat she was choking on popped out of her throat and she could breathe again.
"It was very gratifying," Heimlich told the Guardian on Friday by telephone from Cincinnati.
"That moment was very important to me. I knew about all the lives my manoeuvre has saved over the years and I have demonstrated it so many times but here, for the first time, was someone sitting right next to me who was about to die."
After initial reports emerged of Heimlich and his son Philip declaring this was the first time the retired surgeon had used his technique to treat someone who was choking, an account emerged of an earlier incident.
A 2003
BBC Online report
quoted Heimlich talking about using the manoeuvre on a choking diner in a restaurant in 2000. Interviewed again on Friday afternoon by the Guardian, the 96-year-old Heimlich said he did not recall such an incident. His son Philip also stated that he had no knowledge of his father using the technique in any prior emergency.
Heimlich lives in Deupree House, a senior assisted living centre in the city, where he and other residents have their own apartments but get together for meals in a communal dining room.
Fellow resident 87-year-old Patty Ris, who was quite new to the facility, sat down near Heimlich for dinner when she suddenly began choking on a piece of hamburger meat. A member of staff was heading over to attend to the emergency, when Heimlich calmly stepped in.
"I did the Heimlich Manoeuvre – of course," Heimlich said. "She was going to die if she wasn't treated. I did it, and a piece of food with some bone in it flew out of her mouth."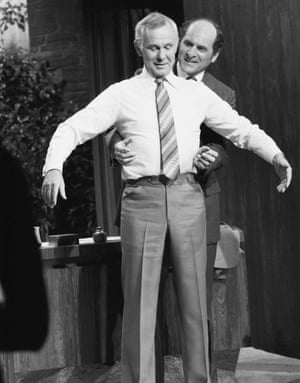 Heimlich demonstrates the manoeuvre on Johnny Carson in 1979. Photograph: NBC/NBC via Getty Images
Heimlich said that the woman never lost consciousness, but after being able to breathe again she was so startled she was unable to talk at first. (
Continue Reading
)
Full Article & Source:
Dr Henry Heimlich uses Heimlich manoeuvre for first time at 96