DES MOINES -- An independent review has found that a former Northwest Iowa judge improperly used proposed orders from lawyers as his final order in at least 13 cases dating back to 2011.
The reviewers' report, released Friday, also found insufficient evidence to show that other judges in the 3rd Judicial District, which includes 16 Northwest Iowa counties, had solicited rulings from attorneys without notifying the attorneys for the opposing side.


"I have read their thorough and comprehensive report and will now be acting on the recommendations," state court administrator Todd Nuccio said in a statement released with the report.


Nuccio's statement gave no indication what actions will be taken or when. The report was released after state court administration offices had closed at 4:30 p.m., and Nuccio did not return a message seeking comment.


Nuccio appointed retired state court administrator David Boyd and Senior Judge Robert Hutchison in March to review former District Judge Edward Jacobson's actions and determine to what extent he may have used ghostwritten orders obtained by ex parte communications -- those communications with only the attorney representing one side of the case -- without giving opposing attorneys a chance to review the proposed orders.


The review's purpose was not to determine whether Jacobson had broken any laws or rules. Nuccio said that task would fall within other entities' jurisdictions.


During an interview with Boyd and Hutchison, Jacobson, who retired last fall after 16 years on the bench, said he never believed he was doing anything improper when entering final rulings that were submitted by attorneys without notifying the opposing parties.


Jacobson said the practice is common in South Dakota, where he practiced before moving to Iowa, and in Iowa. He told the reviewers that he sought the proposed orders only after he had decided a case, and no parties had ever gained an advantage by writing a ruling for him without the other party's knowledge.


"He stated he only called upon a lawyer to write a ruling for him when he felt extreme time pressure," the reviewers wrote in their report.


Jacobson's actions came to light after telling lawyers in a deposition taken in a Plymouth County divorce case that he had asked one of the attorneys to draft the final decree because he intended to rule in favor of her client. The attorney for the other party was not contacted, nor was she given a chance to review the decree before Jacobson signed it.


Jacobson's actions in the divorce case have led to a motion to vacate the final decree.


During the same deposition, Jacobson said that he had directed attorneys in approximately 200 cases during his judicial career to write the final ruling without notifying the opposing attorney.


"If I made a decision, and all I want is somebody to put it on paper, I don't have any problem telling one counsel to do it without telling the other counsel I told them to do it," Jacobson said in the deposition.


In his interview for the review, Jacobson clarified his remarks, saying that the number of 200 cases referred to all cases in which he had solicited proposed rulings from attorneys, not the number of cases in which he adopted an attorney's proposed order as his own.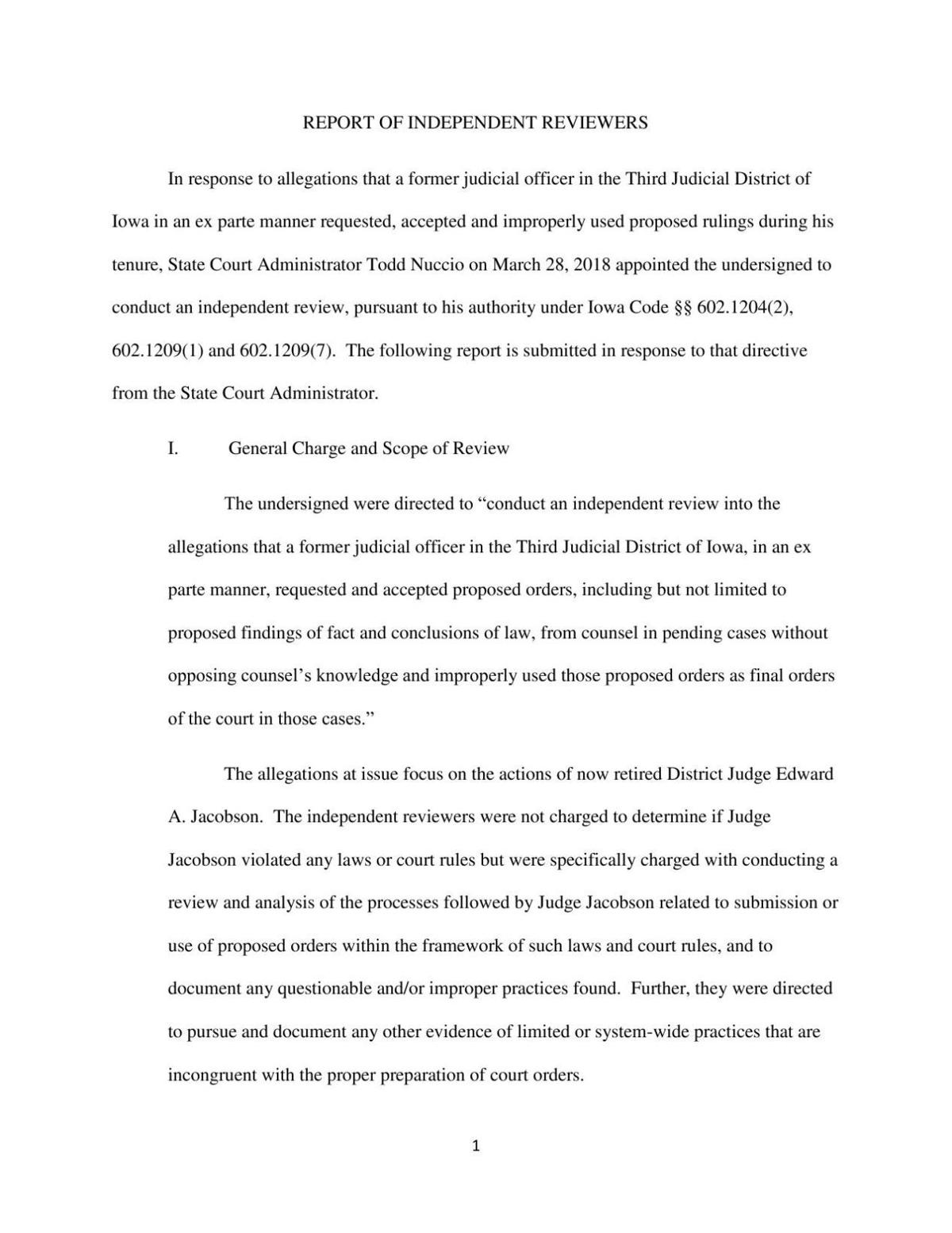 In addition to interviewing Jacobson, the independent panelists reviewed approximately 9,500 available archived emails Jacobson sent and received, interviewed his former court reporters and other 3rd District judicial officials and examined case records.


Those reviews found 13 of Jacobson's rulings, most of them in family law cases, that raised concerns.
In a 2017 Crawford County case, it was found that Jacobson had obtained a proposed ruling from an attorney and emailed it directly to his court reporter without showing it to the opposing counsel. The proposed ruling was entered word for word as the final ruling, the reviewers found.
Other cases in which Jacobson's actions were deemed improper were heard in Woodbury, Plymouth and Monona counties.


Iowa Supreme Court Chief Justice Mark Cady in March filed a supervisory order reminding the state's judges they are not to privately solicit orders from attorneys without notifying the opposing side. He also ordered all judges to attend a continuing education course on the rules of ex parte communications.


Among their recommendations, Boyd and Hutchison said all Iowa lawyers, in addition to judges, would benefit from continuing legal education sessions on the subject.


The reviewers also said that if a judge wants to obtain proposed findings of fact and conclusions from lawyers, the request should be documented as made to both sides. Attorneys should file any requested document in the court's electronic filing system, rather than emailing it to the judge, so that it will be docketed and a notice of the filing sent to all parties in the case.
Full Article & Source:
Review finds judge filed inappropriate orders in 13 cases