Beverley Schottenstein said two grandsons who managed her money at JPMorgan forged documents, ran up commissions with inappropriate trading and made her miss tens of millions of dollars in gains. So she decided to teach them all a lesson.
By Tom Schoenberg
Beverley Schottenstein was 93 years old when she decided to go to war with the biggest bank in the U.S.
It was a June day, and the Atlantic shimmered beyond the balcony of her Florida condominium. Beverley studied an independent review of her accounts as family and lawyers gathered around a table and listened in by phone. The document confirmed her worst fears: Her two financial advisers at JPMorgan Chase & Co., who oversaw more than $80 million for her, had run up big commissions putting her money in risky investments they weren't telling her about. It was the latest red flag about the bankers. There had been missing account statements. Document shredding. Unexplained credit-card charges.
Although some relatives urged Beverley not to make waves, she was resolute. What the money managers did was wrong, she told the group. They needed to pay, she said. Even though they were her own grandsons.
And pay they did. With the help of her lawyers, Beverley dragged her grandsons and JPMorgan in front of arbitrators from the Financial Industry Regulatory Authority, or Finra. She sought as much as $69 million. After testimony that spread over months and ended in January, the panel issued a swift decision in Beverley's favor.
Finra's arbitration process is private by design, and even when settlements are announced few of the underlying allegations are made public. In a brief ruling on Feb. 5, the panel found the bank's J.P. Morgan Securities LLC unit and the brothers who worked there, Evan Schottenstein and Avi Schottenstein, liable for abusing their fiduciary duty and making fraudulent misrepresentations. The arbitrators also found the bank and Evan Schottenstein liable for elder abuse. It ordered JPMorgan and the bankers to pay Beverley about $19 million between them, representing damages, legal fees and the return of money invested in a private equity fund.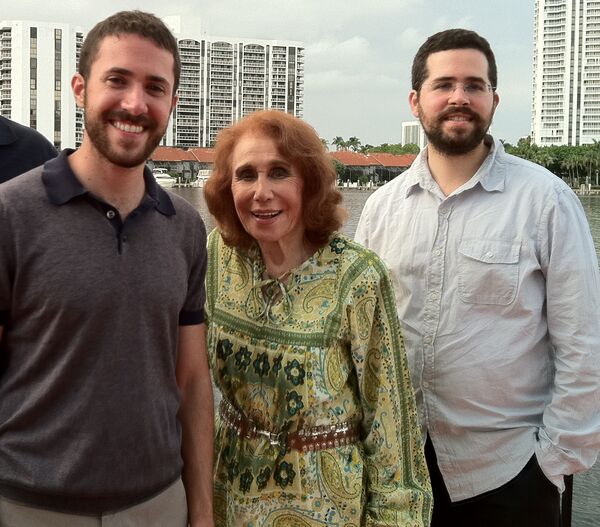 Source: Courtesy Beverley Schottenstein
What the panel's announcement doesn't reveal is the intergenerational financial struggle that culminated in Beverley taking on her grandsons and a deep-pocketed Wall Street bank. That battle emerges in financial documents, emails, correspondence and testimony from the Finra arbitration, as well as interviews with family members, securities industry records, real estate filings and other materials. Beverley and some of her relatives say they decided to discuss her situation to warn of the potential for elder abuse in every economic strata, and to draw attention to the major financial institution they say helped fuel it.
"They made a lot of money on me, those kids—a lot of money," Beverley said in an interview before the ruling. "They had no right going that far with JPMorgan. JPMorgan had to stop them, but JPMorgan was doing pretty good also."
The bank dismissed the brothers around the time Beverley filed her complaint and paid their legal fees in the Finra dispute. "These advisers are no longer with the firm, and their actions do not represent our values as a company," said Veronica Navarro, a bank spokeswoman. Jon Brennan, an attorney for the brothers, said Evan and Avi believe the ruling wasn't justified by the facts or the law.
The money tensions were decades in the making. Beverley's late husband, Alvin Schottenstein, helped turn a family furniture chain in the Midwest into what's now a multibillion-dollar empire that has included Value City, Big Lots Inc., Designer Brands Inc. and American Eagle Outfitters Inc. Beverley's part of the family cashed out of the business long ago. Evan and Avi became financial advisers and offered her their services.
Their arrangement wasn't unusual. It's common and legal for money managers to work for relatives. Family money, in fact, often provides the seed for advisers to break into the business. What Beverley's story shows is just how far off the rails that kind of relationship can go. (Click to continue reading)

Full Article & Source: