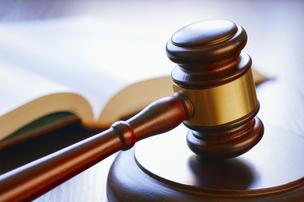 The
Florida Supreme Court
disciplined 7 South Florida attorneys in recent actions brought by The
Florida Bar
. The actions:
•
Herbert Wingfield Biggs,
of Jupiter, was suspended for one year, effective 30 days from a Nov. 20 court order.
Biggs
failed to supervise a non-lawyer with whom he had a business relationship. When
Biggs
was absent from his law office, handling matters in Nevada, the non-lawyer, a convicted felon, solicited business, accepted funds from clients, used
Biggs
' letterhead and forged the attorney's signature. Further,
Biggs
shall pay restitution of more than $53,000 to two clients.
•
James Whitcomb J. Carpenter
, of Fort Lauderdale, was suspended for 90 days, effective Dec. 23, after modification of the Dec. 4 court order. Further, Carpenter shall attend ethics school and comply with other conditions. After the death of his stepfather, Carpenter initially failed to correctly identify all of the potential beneficiaries to the probate court.
•
Michael Ralph Casey
, of Oakland Park, was disbarred following a Nov. 21 court order. Casey is accused of defrauding hundreds of investors worldwide out of approximately $20 million. In September 2012, he was charged in federal court, with conspiracy to commit mail and wire fraud. On April 29, Casey failed to appear for a court hearing and a bench warrant was issued for his arrest by the U.S. District Court, Southern District of Florida. The FBI Wanted poster indicates that Casey "should be considered armed and dangerous."
•
Robert James Julia
, of Miami Lakes, was suspended for six months, effective 30 days from a Nov. 20 court order. Further, Julia shall pay restitution of $3,000 to one client. Julia engaged in improper business dealings with a long-time family friend. As a result of him taking a tax loss that was attributable to the investor, Julia received tax benefits to which he has not entitled.
•
S. Tracy Long
, of Delray Beach, was suspended for one year, effective 30 days from a Nov. 20 court order. Long shall also pay restitution totaling $11,500 to three clients. In one instance, Long hired non-lawyers to provide paralegal services and market foreclosure defense and loan modification and shared fees with them. In another case, Long was retained to help clients with a foreclosure matter. They continued to pay him, believing that he was working on saving the home. The clients were subsequently forced to vacate the premises.
•
Louis Randolf Townsend Jr.
, of West Palm Beach, was suspended for 91 days, effective 30 days from a Dec. 17 court order.
Townsend
was found in contempt for practicing law while suspended.
•
Stuart Barry Yanofsky
, of Plantation, is to be publicly reprimanded following a Nov. 14 court order. Yanofsky was found in contempt for failing to respond to Florida Bar inquiries in a timely manner.
Full Article & Source:
Attorney discipline: 7 punished in South Florida