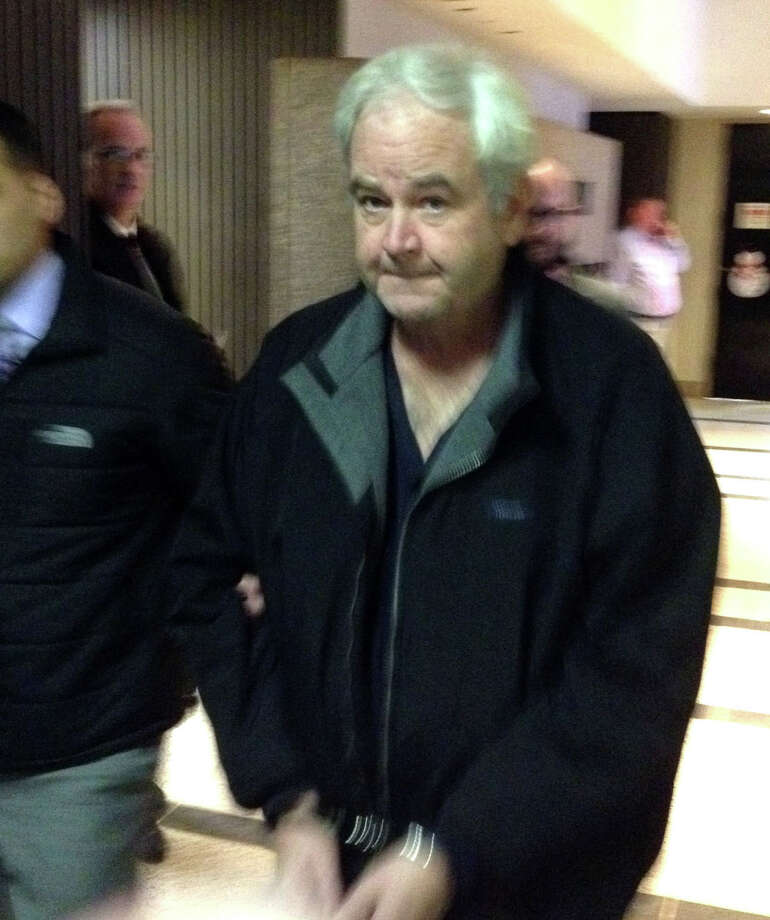 Thomas Lagan is brought into City Court by police officers after being arrested on Friday, Feb. 23, 2018 in Albany, N.Y. (Brendan Lyons/Times Union)
ALBANY — Thomas Lagan, one of two lawyers who took part in a nearly $9 million scheme that victimized the elderly, was sentenced Tuesday to four to 12 years in prison, the state attorney general's office announced.
Prosecutors said Lagan and fellow lawyer and co-defendant Richard Sherwood plundered millions from family trusts they were responsible for overseeing.
Lagan, 60, of Cooperstown, who prosecutors said brazenly continued to use proceeds of the crime even after his arrest and was buying property in Otsego County, pleaded guilty in April to first-degree grand larceny Tuesday before state Supreme Court Justice Thomas Breslin in Albany. He pleaded guilty to federal charges in August.
Lagan is expected to serve his sentence in federal prison. Sherwood awaits sentencing.
"Financial advisors exist to help protect our money, not steal it," Attorney General Letitia James said Tuesday. "These individuals were entrusted with protecting financial assets, but instead, they took advantage of their clients and stole funds for personal use."
So far, law enforcement has recovered $5.5 million in criminal proceeds from the $9.8 million larceny, prosecutors said.
Lagan's admissions followed the guilty plea last year of Sherwood, who was prepared to testify against Lagan under an agreement with prosecutors, court papers show. Sherwood served as a Guilderland town justice until his arrest.
Sherwood admitted he and Lagan wrote eight checks, each for $14,000, to one another, their wives and their children. They used thousands of dollars from the estates of clients to pay for the college tuition of Lagan's daughter.
The scheme evolved after Sherwood and Lagan, who practiced in the area of trusts and estates, began providing legal services and financial advice to local philanthropists Warren and Pauline Bruggeman, as well as Pauline's sister, Anne Urban, in 2006.
Warren Bruggeman, a Queens native who served as a naval officer in World War II, earned bachelor's and master's degrees from Rensselaer Polytechnic Institute in Troy and worked at General Electric in Schenectady at the Knolls Atomic Power Laboratory. He became a vice president at GE, where he overhauled a financially ailing nuclear program into a commercial success.
In 1947, he married Pauline Bruggeman, a Watervliet native and graduate of Troy Business College and Sage Junior College, who later worked as a secretary at Behr-Manning Corporation. Following his retirement, Bruggeman became involved in various philanthropic causes. He also served on the RPI board of trustees.
Sherwood had been advising the Bruggemans when they signed wills directing that all their assets were to go to charities, churches and civic associations, in addition to bequests to Anne Urban and Pauline's other sister, Julia Rentz, according to federal prosecutors.
Warren Bruggeman died in April 2009. Pauline Bruggeman died in August 2011. At the time of her death, her personal and trust assets were valued at about $20 million.
Following the woman's death, Sherwood and Lagan schemed to steal and launder millions of dollars from her estate and the estate of Anne Urban, who died in 2013. Sherwood and Lagan also diverted and transferred several million dollars that belonged to Rentz, who suffered from dementia and died in 2013, prosecutors said.
Full Article & Source:
Lawyer who plundered millions from estates gets prison time